It all began in 1988 a small dental laboratory was set up in Harrogate. The 'Philip Smith' dental laboratory; we were exclusive as we only produced work for dentists we knew in the local area.
We were initially just a basic dental laboratory doing crown and bridgework and of course dentures. As the years have gone by and the locations have changed, Harrogate to Ilkley then Shipley to Bradford the demand from our clients also ever changing - we now have an established Digital dental lab in Bingley, West Yorkshire and one working alongside the health giant Bupa in Gosforth, Newcastle.
All Ceramic Solutions Ltd was the 'first' dental laboratory in the U.K to use the Connect system to receive a digital scan of a patients mouth/jaw to create a design and so mill out a false tooth – a 'crown' for a patient in a short space of time. We have worked in close collaboration with Sirona Dental in the U.K for the last 10 years often assisting in training seminars both home and abroad.
The Sirona Cerec Connect from Dentsply Sirona, for those who don't know is by far the most innovative and reliable solution for dentists and dental technicians who wish to further integrate digital technology into modern dentistry. Thanks to the economic design of the work steps in the practice and laboratory, high quality and aesthetically pleasing tooth restorations are guaranteed which, in turn, means satisfied patients.
Dentsply Sirona offer one of the best intra-oral cameras on the market for dentists together with a digital impression system which has already proven its worth thousands of times all over the world: CEREC. Cerec has not only successfully established itself as the simple answer to prosthetic treatments in a single sitting, it is also the number 1 digital connection for dental laboratories for flexible treatment strategies to handle challenging and complex indications = CONNECT.
Advantages to the dental practice: Fast and easy direct transfer of a digital impression via Sirona Connect to the preferred dental lab partner. No need for alginate/silicone impressions.
Advantages to the dental lab: We have the flexibility to accept digital impressions from dentists and process the orders quickly and safely. No need for messy models in most cases.
We have used Cerec and Emax blocks for restorations for the last 10 years.
Cerec blocks are made from feldspar ceramic.
The benefits of Cerec Blocks: they guarantee excellent colour integration with the restoration residual tooth substance. They demonstrate a clinical survival rate of 90% after 10 years. They have abrasion properties similar to enamel, a high translucency with chameleon effect. They are very easy to polish and therefore ideal as the fastest chairside alternative.
Emax blocks are lithium disilicate glass-ceramic. It is a reliable and versatile material for CAD/CAM applications in the dental laboratory. It is characterised by amazing esthetics, exceptional light-optical properties, high precision and outstanding stability.
The benefits of Emax:
Large indication spectrum unrivalled by any other CAD/CAM glass ceramic.
Unique materials structure and high flexural strength (530 MPa) for maximum dependability.
Suitability for single tooth restoration, hybrid abutment restorations and 3 unit bridges.
Depending on the indication, cementation is possible with the adhesive , self adhesive or conventional technique.
There is a large selection of shades and translucency levels (MO,LT,MT,HT) for excellent shade adjustment. Various long term studies confirm the safety and impressive reliability of the material. As a result, patients can rely on restorations that will last for many years.
More recently we have been using various types of Zirconia:
Incoris Tzi from Dentsply Sirona
Sirona Cercon discs
Zirlux white
Preshaded Zirlux
Multilayer Zirlux
Philip Smith has over 40 years of experience as a dental technician and has wanted to expand the
business using the latest digital equipment available to keep up with the ever changing progression of the dental industry. We now in 2017/18 concentrate on 5 axis milling and 3D printing.
Inlab MC X5 – 5 axis Milling Machine Wet and Dry mill & InEos X5 scanner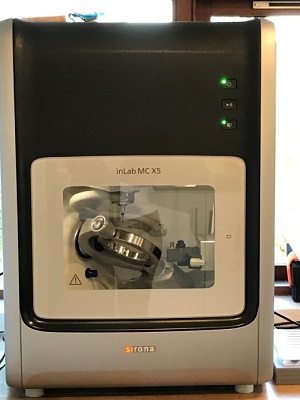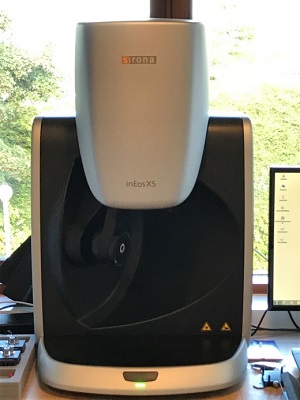 RapidShape 3D Printer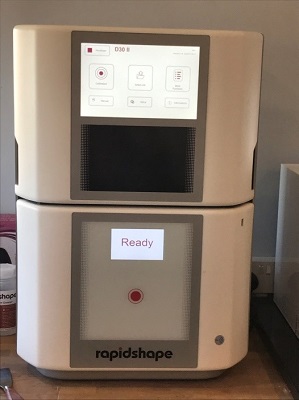 All Ceramic Solutions is now registered with Damas. Dental Appliance Manufacturers Audit System. This is a quality assurance management system tailored to the dental industry. It provides the opportunity for laboratories to become certified as compliant with the law.
The benefits of this to the laboratory are:
· Retaining clients

· The potential to attract new clients
· Promotion for the laboratory
· Peace of mind
· Simple to follow management system
· Verifiable CPD
The benefits to the dental surgeries are:
· It shows the dentist that the lab is providing dental appliances that are compliant with MDD
· Limits the risk of litigation
· They can identify a responsible laboratory
· Turnaround Time improvements
· Increases the accuracy of the dental appliance giving better long term results for patients
· Improves and develops the image of the dental industry
Author:
Sarah Wright
All Ceramic Solutions
Posted by Gemma